iOS 5.1 beta 3 hints Apple is planning deep Facebook integration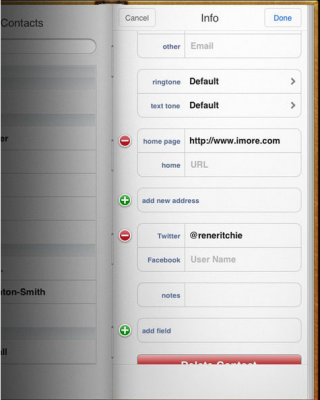 iMore dug through the recently released third beta of iOS 5.1 and found evidence showing that Apple could add a deeper iPhone and iPad integration with Facebook into a future operating system update. In one screenshot shown for the iOS Contacts application, there is an option to enter a person's Facebook user name right below their Twitter account. The same deeper integration was provided for Twitter that was one of the most-touted features of iOS 5, which was publicly released last October.
Deep integration with the social networking service allows users to quickly post Web links from Safari or pictures saved in the Photos application to Twitter. Presumably, future iOS integration with Facebook would offer similar functionality, making it easier for users to share information with their friends on the popular website.
The pre-release build of iOS 5.1 also reportedly includes references to new iPad models that are named in the code such as "J1AP" and "J2AP." The references corroborate with rumored code-names of "J1" and "J2" that were first reported last November, when it was said that Apple was secretly working on two new iPad models.

Leave a comment