iPad 2 May Come on April 2nd or 9th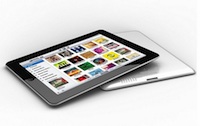 Today German website MacNotes has suddenly revealed new information on the next-gen iPad. It is said in its report that iPad 2 will be presumably launched in the first week of April, or, to be precise, on the 2nd or 9th or April, and both of these days are Saturdays. As you may remember, first-gen iPad appeared in stores on April 3, which was also a Saturday.

"Reliable sources told us about the upcoming launch of the Apple iPad 2: the first or second Saturday in April will see the first sales of Apples new tablet. The iPad 2 will sell US-only for three months, and Apple Store-only for up to half a year. In July, more countries will follow. Walmart, Best Buy and Co. maybe have to wait until October until they are allowed to sell Apples new tablets."
If the US will be the first to get the iPad 2, and other countries will get it in July, this turns out to be same release pattern that was used last year. The only thing is that though it was assumed that Best Buy and Walmart will probably get the device only in mid-autumn, in 2010 Best Buy started offering iPad at its launch.
According to MacNotes, new iPad will get Retina Display (with higher though precisely unknown resolution than the one used in iPhone 4), two cameras and USB-port.

Leave a comment