iPad app library now has more than 10,000 titles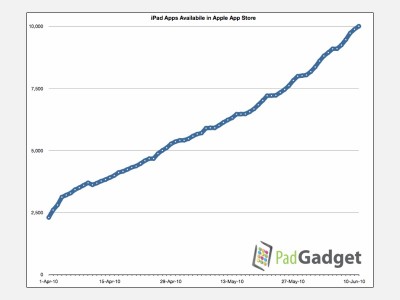 New reports made by Mac Stories and PadGadget reveal new data on App Store. Here are the most interesting facts:
Over 2,100 titles in the Apple's App Store are iPad games;
78% of all iPad apps are paid (which is almost equal to 80% value of previous Moblix report);
Almost 75% of all 225,000 iPhone apps are also paid;
2,5 months needed for iPad apps library to reach the 10,000 milestone (For comparison, it took five months for iPhone apps and 11 months for Google's Android Market to get the same result).
Currently iPad apps store is the third biggest after iPhone and official Android apps store.
RIM's BlackBerry App World, Nokia's Symbian platform and HP's Palm/webOS have less than 7,000 apps.
It is important to note that Google currently forbids putting Android Market on non-smartphone devices, so there is no opportunity to compare the actual numbers of Android and iPad apps.

Leave a comment