iPhone 4 vs Windows Phone 7 vs Nexus One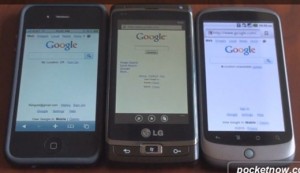 The developers have recently tested Windows Phone 7. We've already seen how Windows Phone 7 tried to overcome iPhone 3GS that runs on iOS 4. Now Pocketnow offers a unique opportunity to check the web-browsing with Internet Explorer on Windows Phone 7, comparing it with Nexus One, running on Android 2.2 Froyo and iPhone 4 on iOS 4.x.
According to Pocketnow, Windows Phone 7 has something to show your iPhone and Nexus One. But we should not draw hasty conclusions.

Leave a comment