iPhone and iPad Hold 14% of Samsung's Home Market

Samsung devices are extremely popular in South Korea. Well, this is much due to the fact that one of the world's biggest smartphone and tablet manufacturer is actually based in this country. Nevertheless, according to the latest research conducted by mobile industry analyst firm Flurry, Apple's iPhone and iPad still hold about 14% of the market here.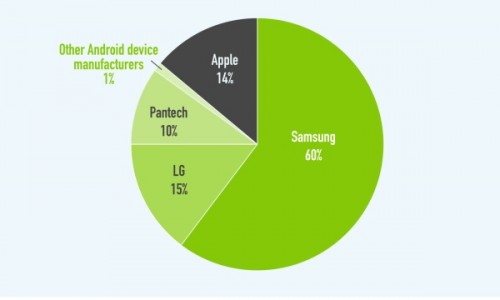 Here's what experts say (via AppleInsider):
Manufacturers based out of South Korea enjoyed the most success in that country, With chief Apple rival Samsung far and away the most preferred device maker in the country. Samsung held a 60 percent share of the South Korean mobile device market, according to Flurry, followed by LG, also based out of South Korea, with a 15 percent share. Pantech, another South Korean firm, came in behind Apple with just 10 percent of the South Korean market. All other Android manufacturers amounted to just one percent of the market.
To attract people in South Korea, I believe, Apple should make its devices cheaper. A simple, but very effective method of luring customers.

Leave a comment