iPod Turns 10 Years Old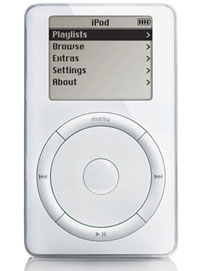 Ten years ago, on October 23rd, Steve Jobs introduced the first iPod. This music player seems to be partly responsible for Apple's comeback and success. It also paved Apple the way to the consumer electronics market. Macworld provides a nice story detailing how the iPod came to be:
Behind every successful product lies a problem in search of a solution. The inspirational problem, in the iPod's case, involved the pitiful state of the young MP3 player market in the late 1990s.

Portable MP3 players had been around since the mid 1990s, but Apple found that every one on the market offered a lackluster user experience. Steve Jobs had a strong term for gadgets like that: "crap". Everyone at Apple agreed.
Initial reaction to the iPod wasn't favorable. Customers complained against lack of wireless and space. They called it "lame" and thought that the iPod would never start taking off. But time tells that all those critics were wrong. Now iPod line of  portable music players is one of the most popular worldwide. Ten years after the launch, the iPod has sold over 304 million units.

Leave a comment