Mac Pro to Finally See Updates Next Week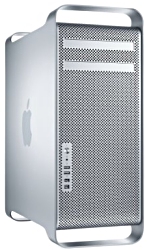 An inventory check of Apple's online store reveals that the basic Quad-Core Mac Pro model isn't any more available for in-store pickup, meaning that the computers are either sold out or Apple is preparing to introduce refreshed Mac Pros, probably, at the next week WWDC.
9to5Mac has been able to track down new retail part numbers for Mac Pro updates that they believe to be due next week.
MD770LL/A – K5BPLUS,BETTER, BTR-USA
MD771LL/A – K5BPLUS,BEST,BTR-USA
MD772LL/A – K5BPLUS,ULTIMATE,BTR-USA
If the Mac Pro is indeed refreshed, it remains unclear whether the update will include a case redesign or Apple upgrades just the PC's internal components that haven't changed significantly since 2010. The last Mac Pro design revision was seen in 2006 when Apple switched from IBM's G5 processors to Intel's multi-core Xeon silicon.
Pricing is said to be "similar to current Mac Pro models". The new models come in three configurations: two standard versions and a third with OS X Server.

Leave a comment