Apple files for "Magic Trackpad" trademark

Patently Apple reports that Apple filed for the 'magic trackpad' trademark. US Patent & Trademark Office published application on February 26, 2010. 'Magic Trackpad' likely refers to an external peripheral device for desktop computers or laptops plugged into external displays. There has been speculation about some sort of multi-touch "trackpad gadget" from Apple. Maybe Apple will provide desktop users a way to take advantage of some external multi-touch system.
The application requests registration in International Class 009 under a number of categories relating to computer hardware and software, as well as several types of peripheral devices:
International Class 009: Computers; computer software; computer operating system software; computer utility software; computer hardware; computer peripherals; scanners; touchscreens; keyboards; computer mice; trackballs; trackpads; touchpads; light pens; joysticks; game controllers; graphics tablets; digitizers; cables and connectors; flash memory drives; USB drives; solid state storage devices; barcode readers.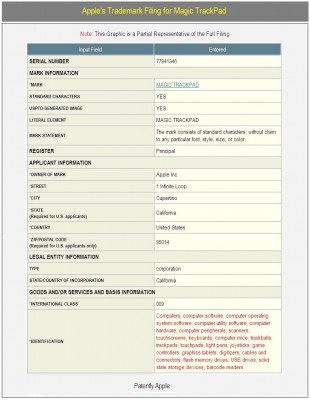 Leave a comment