Monte Vista Christian School Acquired 60 iPads To Use In Classroom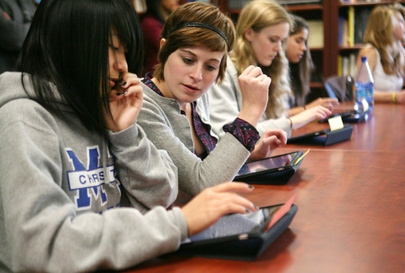 Monte Vista Christian School in California has purchased sixty Apple iPads for use in its classrooms. The devices were introduces last Thursday to those of the students who will participate in an experimental project. If the results will be successful, Monte Vista's headmaster Stephen Sharp will replace textbooks with interactive e-versions.
"There are many academic advantages. They provide new access to photos, videos, daily newspapers and resource material that enhance the curriculum."
Marcus Scwager, who is an English teacher, is excited about the function of pop-up word definitions while reading Shakespeare's "The Tempest". Science teacher Cynthia Armstrong used an iPad to show a cutaway of female body with a zoom function for closer look.
As the iPads are used only for classroom use, students e-mail their notes to a previously created account that they can access later at home. They can use a special app for copying graphs from the board, SoundPaper app to record lectures for listening it later where they want.
Alyssa Villanueva, who is a 15-year-old student, also enjoys the iPad:
"It's a little easier to use. You can really focus on where you're studying."
Apple provides a $50 school discount for its tablets. The company has also developed a special program for teachers to train them to use the new technology.

Leave a comment