New Apple Patent Application Reveals Slap Bracelet With Flexible Display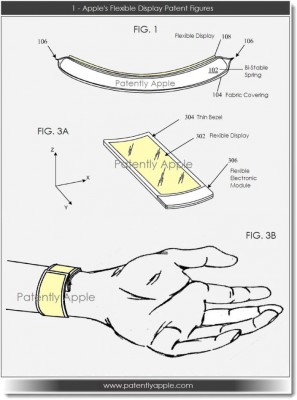 A new patent application from Apple discloses a new "bracelet" device with a wraparound design where the display would cover the whole outer surface. Although the word "watch" is not mention anywhere in the patent application filed back in August 2011, the wearable device described in the patent could clearly serve as a smart watch.
The document describes a device with a "bi-stable spring" design, where the strap would automatically bend around any sized wrist with two ends overlapping if necessary. The display would be flexible, and any portion of the screen covered by the overlap could automatically be switched off.
The device's screen would have a "touch-sensitive user interface" laid on the flexible display as opposed to the physical buttons currently used on smart watches like Pebble.
The device would include a thin flexible steel band sealed within a fabric wrap, with the battery and electronics glued to the inner surface and display glued to the outer surface.
The screen appears to consist of a series of flexible segments, which could curve as much as needed when the watch is worn and could be flat when the device is placed on a desk.

Leave a comment