iPhoneDevSDK informs what led to hacking Apple and Facebook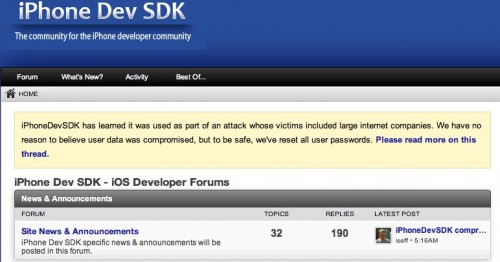 In January, a number of Apple employees' Mac devices have been hacked after visiting a popular iPhoneDevSDK forum. The employees from Facebook and, probably, dozens of other companies have also been attacked by the hacker. The site's owner, Ian Sefferman,  has provided some limited details about what happened in his blog.
It should be noted that the hacker attack was reportedly ended January 30, 2013 that meant a possible lack of constant threat.
"What we've learned is that it appears a single administrator account was compromised. The hackers used this account to modify our theme and inject JavaScript into our site. That JavaScript appears to have used a sophisticated, previously unknown exploit to hack into certain user's computers.

We're still trying to determine the exploit's exact timeline and details, but it appears as though it was ended (by the hacker) on January 30, 2013.

As with Facebook, it's important to stress that we have no reason to believe user data was compromised."
Eric Romang carried out some extra detective work about the attack, placing much of the blame on Java . Last month, Apple twice blocked Java 7 on some Mac devices. This happened after it was revealed that someone has unauthorized access to data.

Leave a comment