New lawsuit: Apple falsely marked its products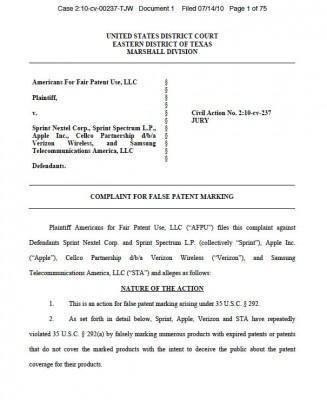 Last week organization Americans for Fair Patent Use filed a lawsuit in a U.S. District Court in the Eastern District of Texas. Apple, Samsung Telecommunications America, Verizon Wireless and Sprint Nextel Corp. are named as the defendants. The lawsuit says that these companies produce and/or sell falsely marked products with a patents that are expired or do not cover these marked products, with a purpose "to deceive the public about the patent coverage for their products."

The document mentions iPod touch, iPod classic (5th and 6th gen), iPod nano (3rd and 4th gen) and iPhone, which reference to U.S. Patent Nos. 4,577,216, 4,631,603, 4,819,098, and 4,907,093. According to lawsuit, Apple started referencing those patents since March 6, 2007 after they had actually expired.
"Despite the fact that all of the '216, '603, '098 and '093 patents expired prior to the first sale in the United States of any Apple Product, Apple knowingly and intentionally marked the user manuals, user guides, or product information guides (or the equivalent) for these products at various times with the patent numbers of these patents. Apple knows that the '216, '603, '098 and '093 patents do not and never covered any of the Apple Products."
The organization Americans For Fair Patent Use asked the court to fine the defendants $500 per every falsely marked product. Moreover, the plaintiff also wants the court to take steps to ensure that these companies will notify their customers of the situation and will not falsely market their products in the future.

Leave a comment