Now Flipboard App Is Available On iPhone And iPod Touch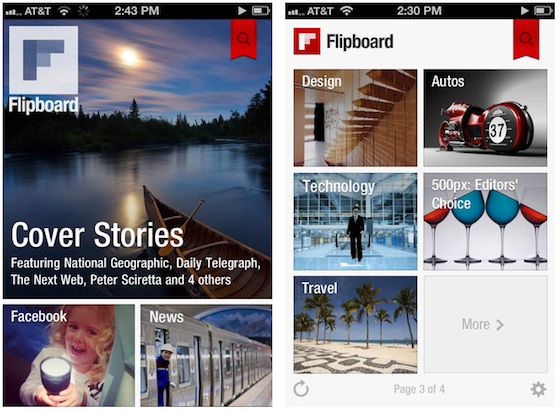 Today social magazine service Flipboard announced the launch of a universal version of its iPad app, which adds compatibility for the iPod touch and iPhone. Flipboard allows users to gather information from such sources as blogs, social networks, news sites, offering the content in an easy-to-use magazine form. The new version allows users to access their favorite social networks and content saved on the iPad edition of the app via their Flipboard Account.
This morning Phil Schiller, Apple marketing chief, published a relatively rare post from his Twitter account stating that the new version of the app is "very nice".
Flipboard has gained popularity among other user as well, and The Next Web notes that today Flipboard announced that iPad version was downloaded 4.5 million times and installed on more than 10 percent of all iPads.
The company apparently believes that the universal app will help to expand the Flipboard app user base while also offering current users more flexibility to access their content from other devices.
Flipboard informed in a Tweet that due to high demand the service is currently down and they are resolving the issue.

Leave a comment