Now You Can Receive Up To $200 For Your Used iPhone 4S From Apple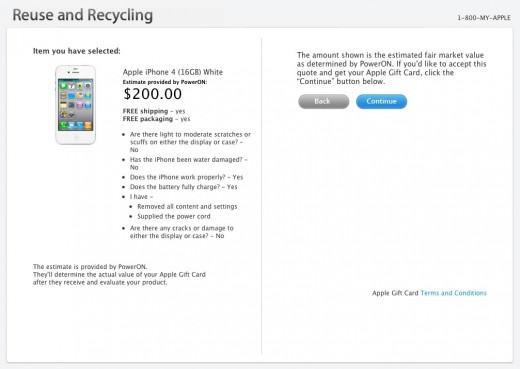 Now, instead of selling your used iPhone on services like Gazelle or eBay you can give your used iPhone 4 to Apple and receive up to $200 for it, depending on its condition. Just visit the page of Reuse and Recycling Program on Apple's site and press the button Get Started.
After yesterday's release, in Apple Stores the iPhone 4 is available only with 8GB of storage and costs just $99. Meanwhile, the iPhone 3GS is available for free. However, both older iPhone versions require a two-year contract to receive them at those prices. Without a contract commitment, you can buy iPhone 3GS and iPhone 4 for $375 and $549, respectively.
Traditionally, Apple has required a contractual commitment for the latest iPhone versions in most countries, and released a contract-free version ahead of the launch of next iPhone model. However, according to this Apple's note, along with the subsidized iPhone 4S, the company is going to put out its SIM-free versions. Also unlocked iPhone is already listed on Apple's online stores in several countries.

Leave a comment