Online battery test log points to possible 13-inch Retina Display MacBook Pro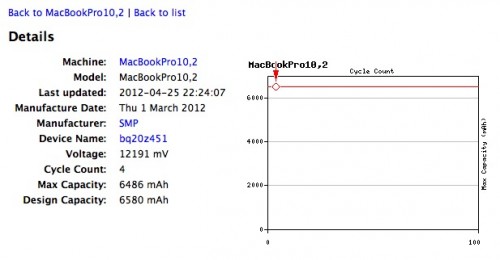 Unconfirmed data found by AppleInsider reader Sam shows the log of an online battery test archive with a machine identifier possibly pointing to a 13-inch version of Apple's Retina Display MacBook Pro. The notebook is labeled "MacBookPro10,2" which could be a next-generation version of Apple's 13-inch notebook if the company's coding scheme is followed.
The recently-released 13-inch MacBook Pro is labeled "MacBookPro9,2" while the 15-inch model is "MacBookPro9,1." Apple flipped the numbering scheme with the current models as the company previously assigned the "MacBookProX,1" code to smaller-screened notebooks while larger versions carried the "MacBookProX,2" code as seen with the previous generation "MacBookPro8,1" and "MacBookPro8,2" which 13-inches and 15-inches, respectively. Following the new numbering system, Apple named the next-generation Retina Display-toting 15-inch MacBook Pro "MacBookPro10,1," thus the "MacBookPro10,2" code found online could logically be a smaller unannounced 13-inch Retina Display model.
AppleInsider didn't find any machine specifications, however, the data allows suggesting that the specifications fit for the next-generation 13-inch MacBook Pro.
The voltage output is similar to current Apple notebooks with a design capacity of 6580 mAh, which is much higher than the regular small-screen Pro's 5770 mAh and nears the 6900 mAh cells found in 15-inch models.

Leave a comment