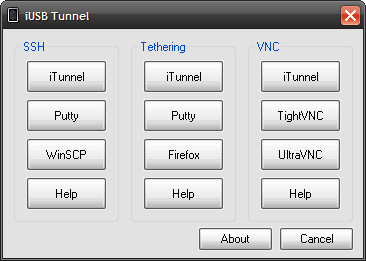 iUSB Tunnel is a simple gui that brings together ssh, tethering and vnc applications in one application. with iUSB Tunnel you can access your iPhone over usb on a Windows machine using ssh, tethering  and vnc. Best of all its a lightweight program and portable so you can run it from a usb stick if you want. It comes loaded with WinSCP, Putty, Firefox Portable, iTunnel, TightVNC and UltraVNC so you don't have to download those programs.
Download:

Leave a comment

Nice video of several different gadgets, including Nintendo DS, DSi, iPhone, iPod Touch and a Kaossilator. They all run various music apps. Take a look at the result:

Leave a comment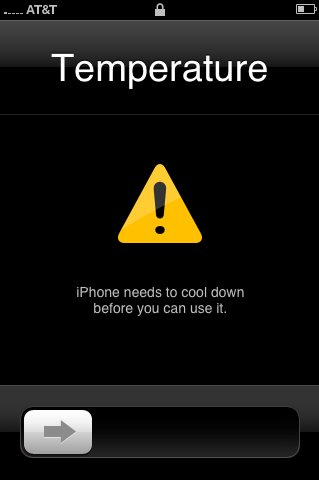 Several users report that they saw this screen on their iPhones. Apple knowledge base proves that this is real, not fake.
How to fix this problem? Just put an iPhone between 2 cold beers

Leave a comment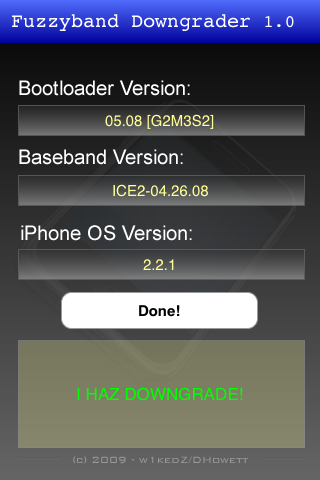 3G Fuzzyband Downgrader is now available in Сydia. This should be used instead of 3G Baseband Downgrader for downgrading the baseband on phones containing the 5.8 bootloader.
Benefits over original downgrader:
Does version checking, will only downgrade if phone is eligible
Downgrades all versions of baseband from 2.30.03 to 4.26.08 (3.0 beta5)
Reports current bootloader version on screen
The original downgrader was a possibly dangerous app, as it relied on a failed downgrade to decide whether downgrading was possible. Anytime you run BBUpdaterExtreme you are potentially doing damage to the modem, so the version checking in this app minimizes the chances of accidently corrupting the baseband.

Leave a comment


Saurik had finished the bundle of Cydia for QuickPwn, working on Firmware 3.0. This includes major packages and extensions, like Mobile Substrate. Cydia for 3.0 will be ready before 3.0 firmware's release.

Leave a comment

Need For Speed Undercover was released recently. Today we can download cheats via Cydia. They will allow you to unlock cars or to have lots of money.
The first will add $999.99 to our account. The second one will add $5M and release the two most powerful cars: the Porsche Carrera GT and Pagani Zonda F. To download this package (we recommend to put one and not both), you must add the following repository in Cydia (Manage > Sources > Edit > Add):  iphone.org.hk/apt/
You can sale and rent some good real estate in spain on en.atlanta-rea.com.

Leave a comment

The Boy Genius has reported two new screenshots of the iPhone firmware 3.0. They show the integration of a magnetometer on the next model of iPhone.
The magnetometer (compass) is a sensor that detects the Earth's magnetic field. It will be particularly useful when used together with GPS and navigation software. Here's a video that shows magnetometer work on a Nokia N97:

Leave a comment

The iPhone DevTeam confirms that jailbreak on OS 3.0 is working. Nothing can be done about it since in order for apple to stop jailbreak they have to remplace the hardware. As soon as OS 3.0 will be released we can expect to have jailbreak app available.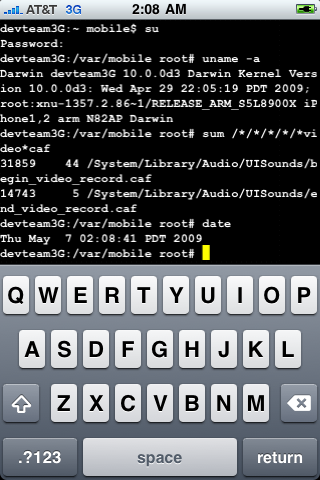 Leave a comment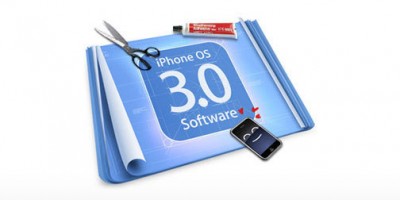 Apple has just released iPhone OS 3.0 beta 5 build 7A312g, almost a week after they released beta 4. With this released they also released a new version of the iPhone SDK and iTunes 8.2 (b10)
Remember this are only available to register developers and if you are not we recomend not to install or you will have a device with a pink screen of death since you need to activate the beta using iTunes and your device must be register in a database.

Leave a comment

Leave a comment

Leave a comment

Leave a comment

Leave a comment

Here is a list of changes from iSapzio (sorry, screenshots are in Italian):
1. You can now enter to Settings-Store to see the balance and billing information:
2. Another change concerns volume control in the iPod app (or the "Music" on iPod Touch). While using Firmware 3.0 beta 4 on iPod Touch first generation, we can see that the controls for the volume are gone. This is an intelligent system, that turns on and off volume control, depending on USB, headphones and AD2P connection:
3. Fixed problems with iPhoto and displaying thumbnails of the screenshots / images from the CameraRoll.

Leave a comment

Apple released new firmware 3.0 beta4. It is only for developers' use and it requires iTunes 8.2.
Several developers report a pink screen error. When usiing iTunes 8.2 the screen should be pink for a few seconds and then the upgrade process will start. Others report that pink screen disappears after reboot.

Leave a comment