Recently Released Microsoft Office Apps Top App Store Charts

As you probably know, Microsoft on Thursday released its long-anticipated Office for iPad. The office suite consists of three apps, namely, Word, Excel and PowerPoint. Just two days after the official release, these apps are now ranking as top three free apps on the App Store. What a successful debut, huh?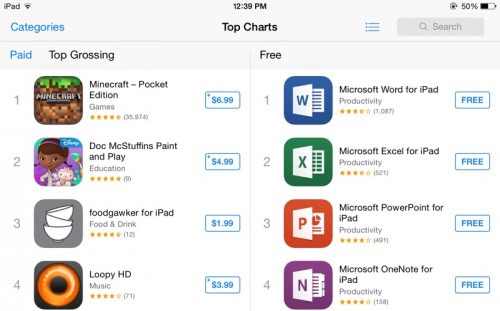 As was noted by MacRumors reporters on Friday,
Just a day after being released into the App Store, Microsoft's new iPad Apps, including Word, Excel, and PowerPoint, appear to be quite popular with consumers, ranking as the top three free iPad apps in the App Store, with the redesigned Microsoft OneNote in the number four spot.
These apps are available for free, however, if you want not only to view the existing, but to create and edit new documents, you'll have to purchase Office 365 subscription. The subscription is available for $9.99/month or $99/year.

Leave a comment