Researchers Discover iPhone File That Keeps Track Of Your Moves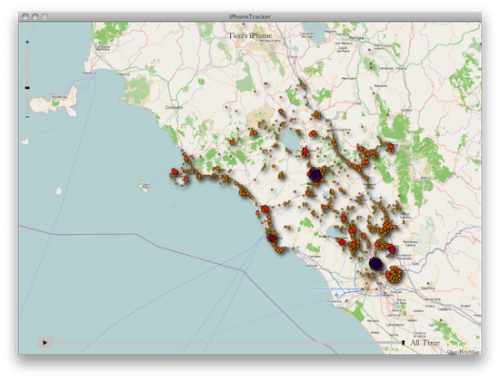 Alasdair Allan and Pete Warden, security researchers, discovered a file in Apple's iOS local backup system that keeps track of your location history, in format readable by a computer, and the researchers claim it's present both on iPhones and iPad 3G units. Such file is kept unencrypted in the iOS database that can be backed up to a computer using iTunes. The researchers have also created an app called iPhoneTracker that recognizes the file from your local iOS backup, and displays your most-visited locations on a map (see the screenshot above). The app is also allows you to encrypt this file.
It's unknown why Apple is doing this. Cellphone network providers have been allegedly tracking users' location for years through their towers, but they never stored the location info locally on a device. That perhaps might be functional to new location features Apple is working on for future versions of iOS.
All iPhones appear to log your location to a file called "consolidated.db." This contains latitude-longitude coordinates along with a timestamp. The coordinates aren't always exact, but they are pretty detailed. There can be tens of thousands of data points in this file, and it appears the collection started with iOS 4, so there's typically around a year's worth of information at this point. Our best guess is that the location is determined by cell-tower triangulation, and the timing of the recording is erratic, with a widely varying frequency of updates that may be triggered by traveling between cells or activity on the phone itself.

Leave a comment