Running The New MacBook Pro At 2880x1800 Resolution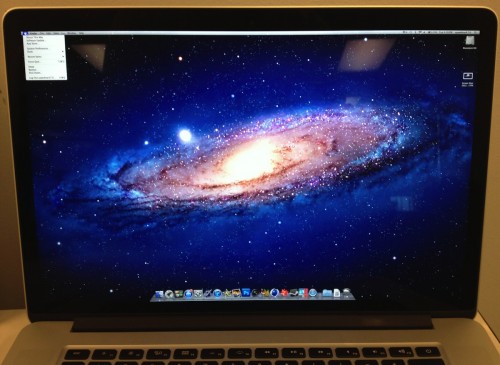 Retina MacBook Pro running at resolution of 2880x1800 pixels
Although Apple's new MacBook Pro offer Retina display with a resolution of 2880x1800 pixels, the display options don't allow users to run their operating systems at full resolution. The extra pixels serve to display more details on a canvas with previous resolution of 1440x900 pixels. However users, who want to display their systems at resolutions higher than 1440x900 pixels, can do this, as System Preferences provides several options ranging up to resolution of 1920x1200 pixels.
Those users, who want to use a desktop with resolution up to the full 2880x1800 pixels, can also do so by using workarounds, which are not authorized by Apple. The process involves using either one of many free options such as Change Resolution or a third-party app such as paid SwitchResX.
Running a desktop at 2880x1800 resolution on a display measuring 15.4 inches results in very small user interface elements and text, but for those wanting to sit close to their display, it may be a useful option.
According to developer Steven Troughton-Smith, those users who run Windows on the new MacBook Pro can also tap into the full display resolution by setting the resolution in Windows preferences.

Leave a comment, read comments [3]