Safari Updated to 5.0.2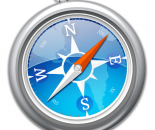 A new updated browser Safari 5.0.2 has been released. It takes 40MB.
This update includes improved compatibility and security, including the following fixes and features:
• The problem preventing users from filling out web forms has been successfully fixed.
• The problem leading to the incorrect display of web content while viewing Google images with Flash 10.1, has been fixed as well.
• The encrypted connection to the Gallery of Safari Extensions has been established.
More information about the security on the content provided by the update, you can find out by visiting the website: http://support.apple.com/kb/HT1222
Download the application here!

Leave a comment