Samsung Announces 2560 x 1600 Display for Tablets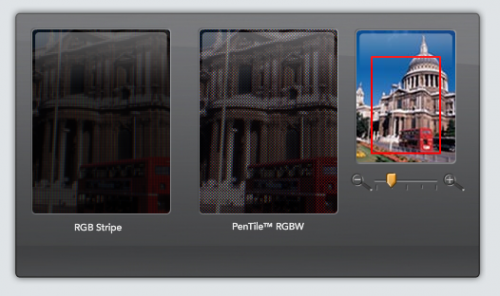 During SID Display Week 2011 International Symposium between May 17-19, Samsung will officially unveil and demonstrate the first 10.1-inch display with 2560 x 1600 pixel resolution specifically meant for tablets. The industry-first display will offer a "ultra-high resolution" using standard LCD technology. According to Samsung's press release, the display also relies on the PenTile technology, which allows for 40% less power consumption and two-thirds number of subpixels.
Because tablets are regularly used for viewing rich-colored images, the 10.1-inch 300 dpi display is ideal for applications that require extraordinary image and text clarity such as browsing the web and viewing high-definition movies, or reading books and spreadsheets.

"In order to develop tablets with the form and function that consumers demand, a design engineer ultimately has to determine how to get the highest resolution display possible, while still fitting within the overall power budget for their design," said Joel Pollack, executive vice president of Nouvoyance, Samsung's affiliate company that developed the PenTile RGBW technology.
Samsung's announcement opens the door to the possibility of having a "Retina Display" on Apple's iPad. But if Apple were to double the resolution of the current generation iPad (1024 x 768), Samsung would have to cut its new display to 2048 x 1536 to fit Apple's need for a screen displaying 2x graphical elements.

Leave a comment