Samsung Galaxy S 4 Benchmarks at Nearly Twice the Speed of the iPhone 5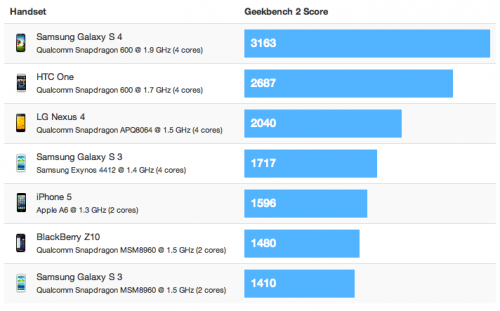 Primate Labs has posted benchmarks scores for the new Samsung Galaxy S 4 revealing that the device is nearly twice as fast as the iPhone 5.
I've charted the Geekbench 2 scores for the Samsung Galaxy S4 along with several Android phones, the iPhone 5, and the BlackBerry Z10. If you're not familiar with Geekbench 2, higher scores are better.
The Samsung Galaxy S 4 scored an amazing 3163, exceeding the HTC One at 2687 and nearly doubling the iPhone 5 at 1596. Notably, the new BlackBerry Z10 only scores 1480 and the previous generation Galaxy S 3 scores 1717.
The site notes that it is amazing how quickly smartphone performance has improved. The original iPhone debuted with a Geekbench score of just 130.

Leave a comment