Samsung modifies, rebrands and relaunches Galaxy Tab 10.1 in Germany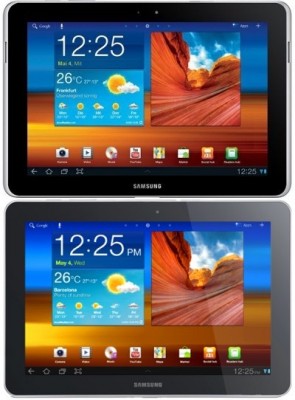 New Galaxy Tab 10.1N (top) vs. Galaxy Tab 10.1 (bottom)
Samsung tries to bypass patent infringement from Apple, modifying the design of its Galaxy Tab 10.1 touchscreen tablet in order to re-launch it in Germany. Moreover, Samsung decided to rename the device. The new product is known as the Galaxy Tab 10.1N. The most obvious difference from the front of the device is that the metal frame around the edges of the device now wraps around slightly toward the front along two of the edges. We are not sure that such device will definitely steer clear of infringement. Anyway, it's up for the Court to decide.
"But without a doubt, Samsung has upped the ante fro Apple and its lawyers in case they wish to request a new injunction or allege that this constitutes an infringement of the existing one."
Germany seems to be a really important battleground in the fight between Samsung and Apple. Last week, Samsung filed a new complaint against Apple in the country. And it's obvious that the company decided to redesign its device because of permanent ban from selling the Galaxy Tab 10.1 in Germany.

Leave a comment, read comments [2]