Siri - The First Step In Delivering Search To apps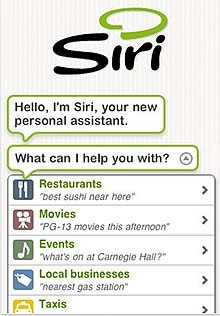 Few days ago John Batelle from the Searchblog wrote an interesting post about his thoughts on Siri, an app that was recently acquired by Apple. His says with devices like iPhone or iPad we starting to use apps more than browse the Internet. Apple understands that and looks forward to increase its share on a market of apps. And Siri is a wonderful choice - its perspective, functional, unusual enough for nowadays. With cash that Apple has, it doesn't need strong and focused reasons to make such a deal.
Batelle's another thought is that with Siri Apple may become a rival to Google. Just imagine yourself saying to the app "Chicago rental car» and after that it answers:
"...You don't need to rent a car. You can use the Chicago Transit. Here's an app for it. You can get from the airport to everywhere you want to go without having to rent a car. Plus, you'll save $150 which we know is a goal of yours because you've been interacting with the Mint application..."
The idea of searching the information will also be implemented in applications we will use. And if we'll get used to it, it will seem to be much more convenient than launching a browser and typing something into the search pole.

Leave a comment