Steve Jobs Exhibit on Display at U.S. Patent Office Museum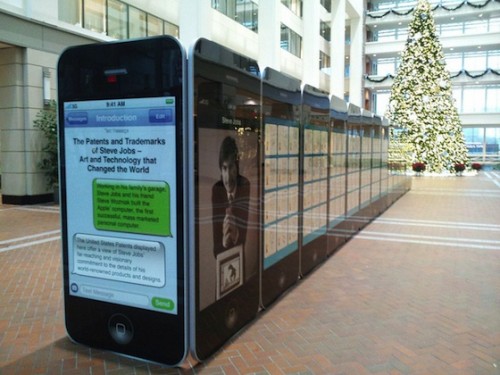 Last week the U.S. Patent and Trademark Office opened an exhibition devoted to Steve Jobs. The exhibition honoring Apple's co-founder includes 30 giant iPhone-like display panels that demonstrate the front pages from over 300 patents that bear Jobs' name as inventor or co-inventor.
"This exhibit commemorates the far-reaching impact of Steve Jobs' entrepreneurship and innovation on our daily lives," said Under Secretary of Commerce for Intellectual Property and Director of the USPTO David Kappos. "His patents and trademarks provide a striking example of the importance intellectual property plays in the global marketplace."
Located in the atrium of the Madison Building, the exhibit features more than 300 of the patents that bear the name of the iconic innovator along with many of the trademarks that have given Apple its instantly recognizable identity around the world. The display gives insight into the visionary commitment Jobs gave to each of the products and designs he influenced during his time with Apple, the company he co-founded at the age of 21 with his friend and fellow computer enthusiast Steve Wozniak.

Leave a comment