Survey Reveals 63 Million iOS Gamers Download 5 Million Games Per Day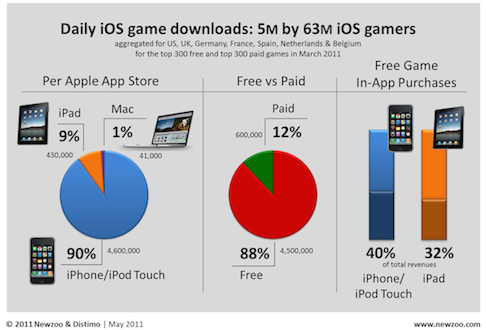 Research firms Distimo and Newzoo conducted survey that revealed that there are roughly 63 million gamers on the iOS ecosystem who (individually) download, on average, 2.5 games per month. Games represent half of all apps downloaded across the iOS and Mac App Stores with more than 5 million games downloaded per day – based on the survey that included the US, UK and five other European countries. A clear majority of 4.6 million are downloaded for the iPhone or iPod Touch whilst just over 400,000 are for the iPad and just a sliver for the Mac with 41,000 per day.
The survey also revealed that in-app purchases within games is becoming an increasingly common feature found in games with revenue from in-app purchases also representing a large proportion of total revenues. 88% of the top 300 games on iOS are free, but across and free and paid games, two fifths of the revenue is now coming from in-app purchases. On the iPhone and iPod touch it represented 40% of gross revenue and 32% for the iPad.

Leave a comment