Tim Cook Showed up at Palo Alto Apple Store on Friday

Tim Cook arrived at the Palo Alto University Apple Store on Friday morning, ahead of the iPhone 5s and iPhone 5c launch. According to people standing in a line, he greeted each person and then went on his way.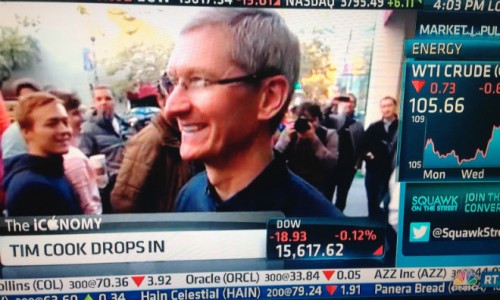 Apart from the Apple's CEO visit, there's some other news from the Palo Alto location. Here's what AppleInsider reports:
Reportedly, the Palo Alto retail location had only 10 gold iPhone 5s units, and the Stanford location sold out of gold units by the 15th customer. That is in keeping with recent reports that show that unit in even scarcer supply than other models. Still, demand remains high for all 5s units, as AppleInsider has been informed that the Palo Alto location also sold out of silver models by the 35th customer.
Recent rumors claim that Apple has asked its suppliers to increase the production of gold iPhone 5s by one third.

Leave a comment