Tim Cook Visits United Arab Emirates

Tim Cook is currently in the United Arab Emirates. Yesterday he was spotted posing for photos at Virgin Megastore at the Al Wahdi Mall in Abu Dhabi and today, people say, he visited Dubai Mall.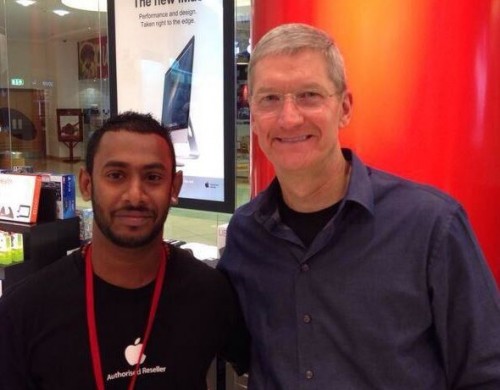 As to the possible reason for the visit, it is unknown; however, people familiar with the matter say that Apple CEO might have met the officials in order to discuss the possibility of opening an Apple retail store in the United Arab Emirates.
MacRumors received an unconfirmed tip last year claiming that Apple was making plans to open a major store at The Galleria in Sowwah Square in Abu Dhabi, a luxury mall that opened late last year, but no additional reports of such a project have yet surfaced. The source claimed that the store would not open for several years and that it could arrive as the world's largest Apple retail store.
It would be interesting to see the world's biggest Apple Store, don't you think so?

Leave a comment