Typical iPad buyer is male, pet-owning video game player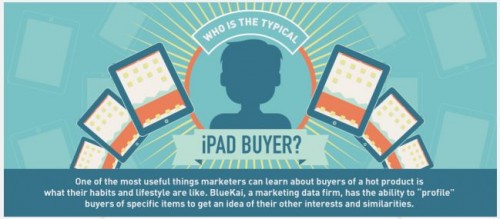 Marketing firm BlueKai compiled the profile of the typical iPad buyer. So, a typical iPad owner is male, has pets and buys video games. Scientists or health care workers, international travelers, apartment dwellers and proponents of organic food are also among those people who are highly likely to purchase the iPad. The firm also found that vitamin takers, domestic business travelers, married couples and college graduates are typically owners of the iPad.
BlueKai created an infographic (below) to reflect its findings, including information received from other research firms. According to comScore, 45.9 percent of tablet owners belong to households earning $100,00 per year or more, while Nielsen has discovered that 70 percent of all iPad use occurs in front of a TV.
Though, not all above mentioned information seems to be trustworthy, but some facts are real. Apple's iPad is indeed adopted by many medical specialists; moreover, the number of special medical applications is increasing. International and domestic travelers have many advantages using the lightweight iPad. The statement that an average iPad user buys video game is not such unbelievable as many tablet users are likely to be video game players.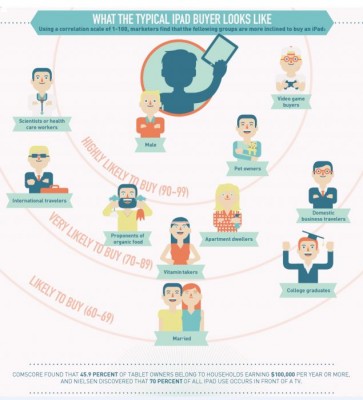 Leave a comment