Three Best Technologies, According To Popular Science Magazine, Are Found In Apple Macs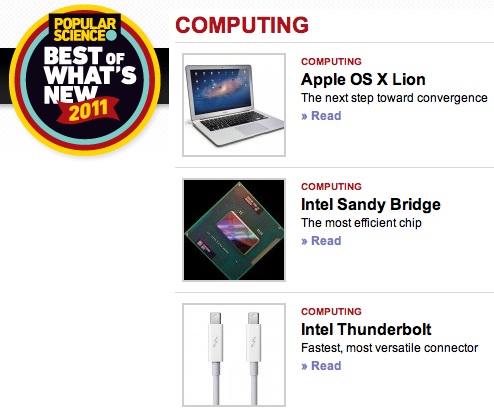 Popular Science Magazine has once again declared its 2011 Best of What's New Awards , and it is not so surprisingly that this year's top three places in the category "Computing" are all technologies found in the latest lineup of Macs.
At the first place we have OS X Lion that earned the top position for its ability to bridge the gap between mobile and desktop operating systems. The publication said:
"OS X Lion is the first step toward a computing landscape in which one interface can serve all purposes".
The second place was given to Sandy Bridge processors for its ability to reduce the time of data transfer from component to component by using billion microscopic transistors instead of lengths of wire.
As you remember Apple recently updated its Mac Mini and MacBook Air lineup with new Sandy Bridge chips, and MacBook Pro are probably on the way.
Last but not least, the third place goes to Intel Thunderbolt emerging technology that was developed in cooperation with Apple and is presented on all Apple's laptops. The Popular Science said:
"Thunderbolt's wires are the first to combine the languages that handle data and display in one channel, making it faster and more versatile than any other connection".

Leave a comment