Whitmore Expects Apple To Sell 1.5M New MacBooks Air Per Quarter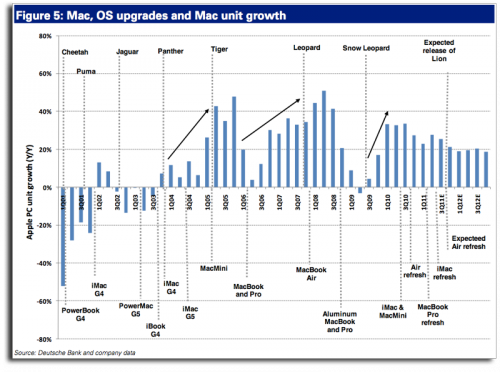 Today we mentioned that Apple may release revamped MacBook Air soon. A Wall Street analyst Chris Whitmore from Deutsche Bank believes the release of new netbooks along with the launch of Lion may boost sales of MacBooks Air to 1.5 million orders per quarter.
In case that will come true he concludes that Apple's thin-and-light notebook may eventually represent nearly 50% of the company's total notebook business.

Whitmore's supply chain sources reveal new notebook will most probably go on sale next month.
Last week AppleInsider reported that this month Apple ordered 380,000 Sandy-Bridge-based models of MacBook Air. 209,000 or approximately 55% of them will be the 11.6-inch models; others appear to be 13.3-inch models.
It is obvious that the MacBook Air refresh and the release of Mac OS X 10.7 Lion will significantly boost Mac sales, though Apple's computers have been outgrowing the PC market for the last several years.
Whitmore believes 18M Macs will be sold in calendar year 2011, but he claims this is a conservative forecast. He also expects that Lion's operating margin will reach 90% because of its exclusive sale through the Mac App Store only. Operating margins of previous operational systems were around 85% due to the fact that they were also distributed at retail.
Lion is also expected to get a strong upgrade cycle, as new OS releases have always been providing significant boosts in Mac sales and thus are extremely important for Apple.

Leave a comment