A10 Chip from iPhone 7 Is 18% Faster Than A9 from iPhone 6s

According to the latest report shared by Techtastic, the A10 64-bit processor embedded to the rumored iPhone 7 may be 18% faster than the A9 CPU that powers the current iPhone 6s. The statement is based on early Geekbench 3 single-core benchmarks. The chart below shows that the new processor scored 3000 points. The score is only 10 points smaller than the result of the A9X processor found inside of the 12.9-inch iPad Pro released in 2015.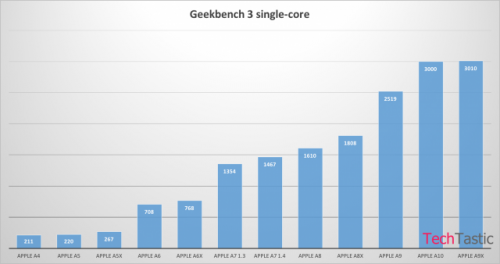 The benchmark app Geekbench 3 A10 able to achieve a single-core of more than 3,000 items, about the same amount as the Apple A9X, which under the hood of the iPad Pro 9.7 and 12.9 can be found. Apple A9 of the iPhone 6s and 6s Plus usually scores around 2500 points, which equates to a performance increase of about 18%.
Apple is expected to release the new iPhone 7 in September. Together with slightly improved design, the phone may also get faster processor and storage, more RAM and other noticeable enhancements.
[via iClarified]

Leave a comment