Accessory Manufacturer Claims 15-Inch MacBook Air Coming in April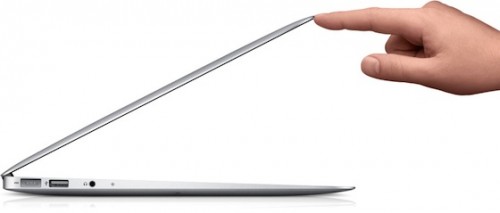 A Mac accessory maker this week indicated that Apple is "likely" to launch its 15-inch MacBook Air in April. The anonymous source said the thin-and-light notebook would be similar to current MacBook Air models with ports on both sides, no optical drive and no ethernet cable.
The vendor reportedly speculated that the new 15-inch MacBook Air would "effectively (kill) the (MacBook) Pro for the average consumer." They suggested that the new MacBook Air could even replace the 15-inch MacBook Pro, leaving the "Pro" moniker only to Apple's high-end 17-inch model.
Rumors about 15-inch ultra-thin notebook have circulating since last year. Different sources reported that the new laptops will be powered by Intel's next-generation Ivy Bridge processors, drop Nvidia's next-generation "Kepler" graphics processors, and start using Intel's integrated graphics solutions.
A thinner and lighter 15-inch MacBook Pro without a dedicated graphics card could be difficult to differentiate from a 15-inch MacBook Air, which is why the anonymous accessory maker sees Apple "effectively killing the Pro" model.

Leave a comment