Adobe comments about "Flash on iPad"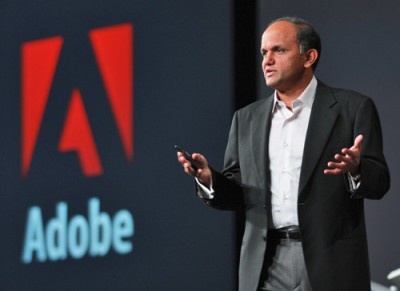 The Wall St. Journal published a small article about Adobe Chief Executive Shantanu Narayen's talk at the Goldman Sachs technology conference this week. Adobe's CEO spoke on his view of why the iPad wasn't equipped to play Flash:
Narayen said Apple's decision likely had everything to do with its business model as it tries to keep a proprietary, closed system so everything goes through its iTunes store, and has nothing to do with the Flash technology. He said about 85 of the top 100 Web sites in the world use Flash, and 75% of the video on the Web today is in Flash, including Google Inc.'s (GOOG) YouTube, News Corp.'s (NWS) Hulu and broadcasters such as ABC and Fox.
Flash will be on every Android device sold at the end of the year. It will also be on Nokias, Palm Pres, Windows Mobile, Blackberries and just about anything else with an ARM Cortex processor. Not to mention 98% of all the Macs and PCs (and Windows/ChomeOS Tablets) throughout the world. It looks like Apple has it's own vision of what is good and bad for the business.

Leave a comment