Apple Accuses HTC of infringing its patents!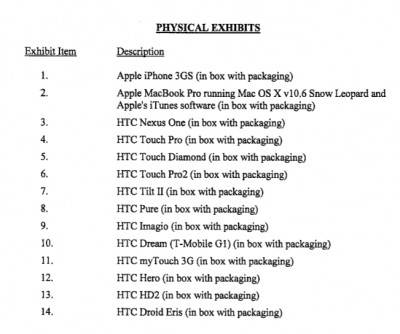 Yesterday morning began with shocking news about lawsuit that was filed by Apple against HTC. As it turned out, Cupertino's company is accusing smartphone manufacturer of infringing 20 Apple patents tied to the iPhone. Google Nexus One, Droid Eris, T-Mobile G1, Touch Pro2, Touch Diamond and the Imagio are listed as exhibits in the litigation.
Copies of the suit can be read here and here. Short list of patents at issue is under the cut.
"Time-Based, Non-Constant Translation of User Interface Objects between States" (Patent 7362331)
"Touch Screen Device, Method, And Graphical User Interface For Determining Commands By Applying Heuristics"(Patent 7479949)
"Unlocking A Device by Performing Gestures on an Unlock Image," (Patent 7657849)
"List Scrolling and Document Translation, Scaling, And Rotation on A Touch-Screen Display" (Patent 7469381)
"System and Method for Managing Power Conditions within a Digital Camera Device" (Patent 5920726)
"Automated Response To and Sensing Of User Activity in Portable Devices" (Patent 7633076)
"GMSK Signal Processors for Improved Communications Capacity and Quality" (Patent 5848105)
"Conserving Power by Reducing Voltage Supplied To an Instruction-Processing Portion of a Processor," (Patent 7383453)
"Object-Oriented Graphic System" (Patent 5455599)
"Object-Oriented Event Notification System with Listener Registration of both Interests and Methods" (Patent 6424354)
Stay tuned for the hottest news about the details of the Apple vs. HTC confrontation!

Leave a comment