Apple Announces Financial Results in Q2 2016

Apple has announced its financial results in the second quarter of fiscal 2016. According to the data shared by the company officials, revenue generated in the course of last couple of months is equal to $50.6 billion and net profit accounts for $10.5 billion. This quarter's earnings demonstrate the first decline in revenue in 13 years. Just for you to compare, one year ago, the figures were noticeably higher, $58 billion and $13.6 billion respectively.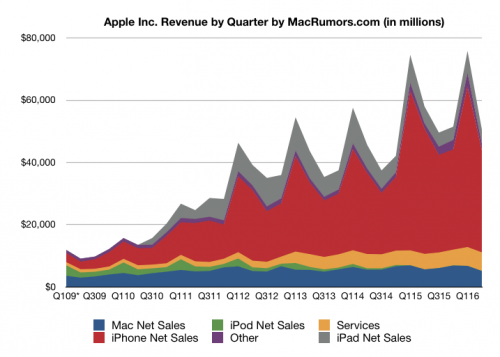 Apple managed to sell 51.1 million iPhones worldwide during the quarter and that is 16% less than a year ago. iPad sales accounted for 10.25 million units and Mac sales totalled in 4.03 million units. The numbers are noticeably smaller than in the second quarter of 2015.
"Our team executed extremely well in the face of strong macroeconomic headwinds," said Tim Cook, Apple's CEO. "We are very happy with the continued strong growth in revenue from Services, thanks to the incredible strength of the Apple ecosystem and our growing base of over one billion active devices."
In the third quarter, Apple expects revenue of $41–43 billion.
The 4-inch iPhone SE and the iPhone 7 that is expected to be released in September can let the company improve the position on the market and increase the revenue. However, nobody knows for sure what the future holds.
[via MacRumors]

Leave a comment