Apple Announces Major iTunes Update Coming Next Month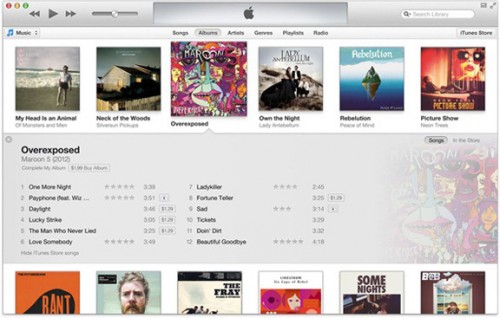 During yesterday's special media event Apple unveiled a radically redesigned version of iTunes for Mac and PC featuring a "dramatically simpler" interface. The updated iTunes will receive iCloud integration to show all your media content saved in Apple's cloud storage service and save your position in movies or TV shows automatically so that you can pick up where you left off on another device.
We created iTunes because we love music and we're going back to our roots with an incredibly clean design that keeps your music at the forefront," said Eddy Cue, Apple's senior vice president of Internet Software and Services. "The new iTunes works seamlessly with iCloud, always keeping your entire library at your fingertips, and we're adding great new features that make listening to your music more fun.
A new "In the Store" button allows users to quickly access the iTunes Store and buy more content. And Apple also said that managing playlists has been made simpler.
A new "Coming Next" button has been added that allows users to change the order of upcoming tracks. Users can also click a "Play Next" button that will add a track next in the existing queue.

Apple also redesigned MiniPlayer to show a miniature version of the album cover art and album and song information, playback controls, and built-in search capabilities.
The new version of iTunes will be available in late October.

Leave a comment