Apple Announces Q4 2011 Conference Call For October 18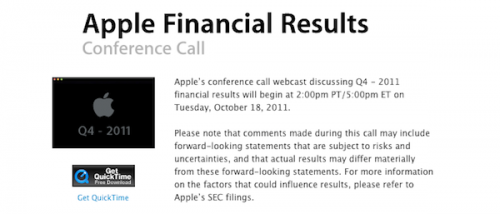 The fourth fiscal quarter ends on this Saturday, September 24th, and as usual Apple will hold its conference call webcast to announce results, this year on October 18th.
Apple's conference call webcast discussing Q4 – 2011 financial results will begin at 2:00pm PT/5:00pm ET on Tuesday, October 18, 2011.

Please note that comments made during this call may include forward-looking statements that are subject to risks and uncertainties, and that actual results may differ materially from these forward-looking statements. For more information on the factors that could influence results, please refer to Apple's SEC filings.
In Q3 2011, Apple managed to earn $28.57 billion of revenue with net profit of $7.31 billion, sold 20.34 million iPhones, 9.25 million iPads, and 3.95 million Macs. The previous quarter was record for Apple, especially comparing with the results of the year-ago quarter, when Apple posted revenue of $20.34 billion with 3.89 million Macs, 14.1 million iPhones and 4.19 million iPads sold during the quarter.

Leave a comment