Apple Became 3rd Largest Vendor in the World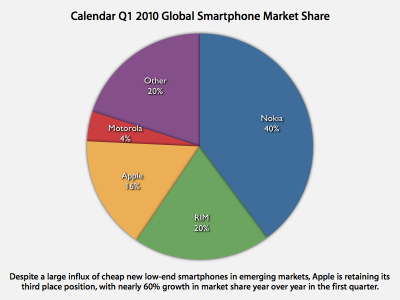 According to a report by Marketwatch (which in turn refers to a figures revealed by Strategy Analytics), smartphones now take 18% share on the market of all mobile phones.
"Sales are driven by healthy operator subsidies, competition between vendors, and a rising number of cheaper models built around operating systems such as Google Inc's Android and Nokia Corp's key smartphone platform Symbian."
It is interesting that different smartphone makers sometimes compete on different markets. Strategy Analytics reveals that Nokia shows good results in India and China while Motorola focuses more on US.
As we wrote before, Motorola raised up its profits after producing its Android-based Droid/Milestone, which is frequently called the closest rival to Apple's iPhone.
Nokia's purpose is to gain the leadership on the markets that are only emerging. In the first quarter the company has 21.5 million smartphones sold, but these are mostly cheap models that were shipped primarily to South America and China. North America remains a "problem child" for Nokia. The company's sales make 40% of all the sales in this quarter.
RIM has 10.6 million BlackBerries sold and takes second place with its 19.7% share.
Globally Apple has 16,4% market share in selling smartphones in this quarter and became a mobile vendor number one in the US. The company made record 8.8 million iPhone sales. Among all mobile phone makers Apple hold 3% global market share.

Leave a comment