Apple Became The World's Top Semiconductor Consumer In 2011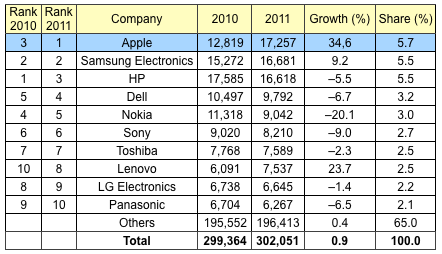 Given the increasing popularity of Apple's mobile devices and growing demand for smartphones, it is no surprise that Apple is raising its expenses on chips. The research firm Gartner reports that Apple is now the largest buyer of semiconductors in the world as measured on the basis of Design TAM, or total silicon content in all devices designed by Apple and its rivals. In 2011, Apple spent $17 billion on silicon parts, which accounts for 5.7% of total silicon buying.
This 34.6% growth over 2010 allowed the company to jump two spots ahead of its competitors Samsung and the world's largest computer producer Hewlett-Packard. Apple's significant rise results from strong sales of iPhones, iPads and popular MacBook Air notebook family.
Samsung took the second place with $16.7 billion in semiconductor spending and 5.5% share. Apple's figures are interesting as the company produces only computers, mobile devices and various accessories while Samsung produces everything from Smart TVs and fridges to smartphones, tablets and notebooks.
Computer giants Dell and Hewlett-Packard and cell phone maker Nokia are among top five semiconductor buyers with $9.8 billion, $16.7 billion and $9 billion worth of chip, respectively.
According to Gartner, solid-state drives and mobile devices are now the main drivers of semiconductor demand. Principal research analyst at Gartner Masatsune Yamaji said:
"The major growth drivers in 2011 were smartphones, media tablets and solid-state drives (SSDs)".

"Those companies that gained share in the smartphone market, such as Apple, Samsung Electronics and HTC, increased their semiconductor demand, while those who lost market share in this segment, such as Nokia and LG Electronics, decreased their semiconductor demand".

Leave a comment