Apple Confirms: June 6 Keynote with Steve Jobs To Unveil iOS 5 and iCloud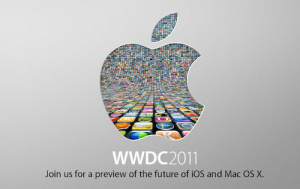 Yesterday Apple confirmed through the press release that Apple's CEO Steve Jobs will be on stage at the WWDC keynote on June 6th. While keynote iOS 5, Mac OS X Lion and iCloud, the upcoming cloud service from Apple, will be officially unveiled. Noteworthy to say that it is not clear yet whether the upcoming iCloud will be focused only on music service, or it will be a part of rebranded MobileMe.
Apple CEO Steve Jobs and a team of Apple executives will kick off the company's annual Worldwide Developers Conference (WWDC) with a keynote address on Monday, June 6 at 10:00 a.m. At the keynote, Apple will unveil its next generation software – Lion, the eighth major release of Mac OS X; iOS 5, the next version of Apple's advanced mobile operating system which powers the iPad, iPhone and iPod touch; and iCloud, Apple's upcoming cloud services offering.
The previous reports supposed that the new iOS 5 will feature new location, music services, revamped notifications and widgets, and direct connection to iCloud, as well as new "Photo Stream" and "Media Stream" features to instantly share photos and videos with friends through the Cloud.

Leave a comment