Apple Confirms: Media Event on October 4th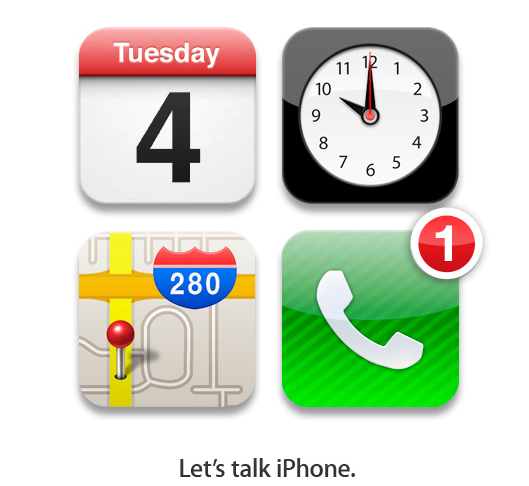 Apple has reportedly sent out invitations for a media event set for October 4th. As far as we know the event will take place at Apple's headquarters in Cupertino. If you look at the invitation posted above, it becomes clear that this media event will obviously focus on the next-generation iPhone - the tagline for the banner is "Let's talk iPhone". The invitation also includes four Apple's applications:  Calendar, Clock, Maps, and Phone. We suggest that all applications may be connected with the new system of voice recognition that Apple is focusing on now – Assistant that is waited to appear on the iPhone 5.
Apple is expected to unveil two iPhone's during this media event. The next iPhone 5 is rumored to feature the company's A5 processor, 1 GB of RAM and a 8-megapixel camera, iOS 5 with iCloud integration. The iPhone 4S is expected to be a low-price smartphone.
The event will begin October 4th at 10:00 am PT.

Leave a comment