Apple iPhone 4S A5 chip incorporates Audience EarSmart noise reduction tech for Siri


Apple's A5 System on a Chip incorporates noise reduction technology by Audience, Inc., which optimizes the performance of Siri voice recognition on iPhone 4S.
Audience explains that by "imitating the complex processing that occurs from the inner ear to the brain, Audience's intelligent earSmart technology distinguishes and interprets sounds as people do naturally. In a mobile device, the earSmart processor effectively isolates and enhances the primary voice signal and suppresses surrounding noise--for both transmit and receive--to enable clear conversations nearly anywhere."
The company notes that "far-field uses are more vulnerable to background noise interference and poor voice quality given the speaker's distance from the device," an issue that has previously been noted in regard to rumors that Apple might deploy TV systems incorporating Siri voice technology.
Last summer, iFixit noted the discovery of Audience's A1026 chip in Apple's iPhone 4. Apple kept the chip a secret by "white labeling" the component, making it difficult for iFixit to identify until Chipworks decamped the part and found Audience's name printed on the chips die marking (depicted below). As a result of incorporating the chip, the website reported that "the iPhone's audio cancellation capabilities are very impressive, outperforming every non-Audience powered cell phone we've tried."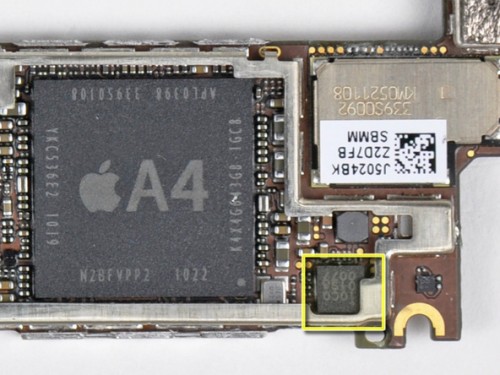 In a report by Stephen Shankland writing for CNET, Linley Group analyst Linley Gwennap is cited as pointing out "to reduce system cost and eliminate the extra package required for the Audience chip, Apple cut a deal to integrate the noise-reduction technology directly into its A5 processor, which appears in the iPhone 4S."
Gwennap added, "this situation helps explain why Apple does not offer Siri as a software upgrade on the iPhone 4. Although the older phone includes an Audience chip, the company has since improved its technology to handle 'far-field speech,' which means holding the device at arm's length rather than directly in front of the mouth."

Leave a comment