Apple is #1 Smartphone Vendor in America

According to the data, published recently by AppleInsider, Apple still remains the most successful smartphone manufacturer in the USA. iPhone 5s and iPhone 5c remain the most popular devices, purchased on contract in the USA for the third month in a row.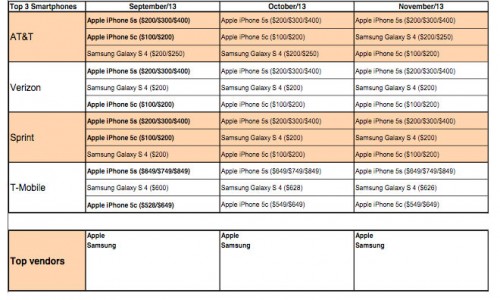 The Cupertino, Calif.-based company remained America's top smartphone vendor in November on the back of 'strong' iPhone 5s sales and 'steady' iPhone 5c sales, according to data cited by Canaccord Genuity analyst T. Michael Walkley in a Thursday note to investors. Samsung notched a second-place finish in an industry that has seen major sales consolidation throughout the fourth quarter.
Before iPhone 5s and 5c release this fall, the company from Cupertino had to share the first sales slots with such tech giants as Samsung, HTC, Nokia, Sony and Motorola. Now the situation is completely different.

Leave a comment