Apple is Looking for a Maps UI Designer for 'A New Secret Project'

Apple is currently looking for a Web UI designer that will be working on a new secret project connected with maps.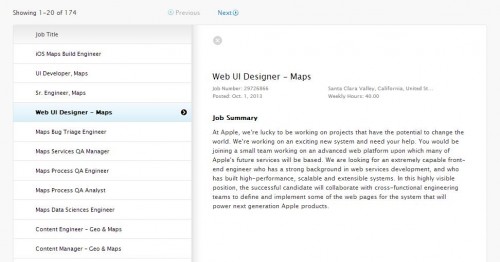 At Apple, we're lucky to be working on projects that have the potential to change the world. We're working on an exciting new system and need your help. You would be joining a small team working on an advanced web platform upon which many of Apple's future services will be based. We are looking for an extremely capable front-end engineer who has a strong background in web services development, and who has built high-performance, scalable and extensible systems. In this highly visible position, the successful candidate will collaborate with cross-functional engineering teams to define and implement some of the web pages for the system that will power next generation Apple products.
The job description looks as follows:
Design, develop, and maintain complex front-end code
Document and build unit tests for your code.
Work with operations, QA, and product management to maximize product effectiveness
If you have appropriate skills, you may try to apply for this job.

Leave a comment