Apple Lost Smartphone Market Share in China to Local Brands

According to the latest report from Canalys, Apple's share in the Chinese smartphone market dropped in 2016. Currently, the company occupies the fifth spot behind Huawei, Oppo, Vivo, and Xiaomi.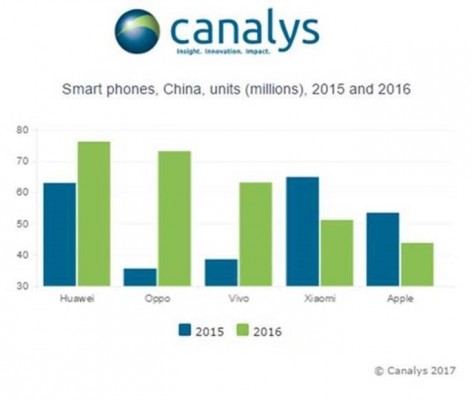 Last year, Apple shipped 43.8 million iPhone units in China, which is 18.2% less than in 2015. The main reasons for poor results include growing popularity of local brands, Huawei, Oppo, and Vivo, as well as the anticipation for the 10th anniversary iPhone that is expected to get major redesign and a number of new features. Many customers have decided not to buy the iPhone 7 or iPhone 7 Plus and wait for the iPhone 8.
Overall, the Chinese smartphone market grew 11.4% in 2016 to 476.5 million units shipped. The shipments in the fourth quarter set a new record at 131.6 million.
Apple is expected to unveil the revamped OLED iPhone 8 later this year. The device will get the A11 Fusion processor, possibly more RAM, wireless charging, and new design. Analysts predict strong demand and record revenues generated by the new handset.
[via iClarified]

Leave a comment