Apple Ranks Number 6 In Fortune 500 List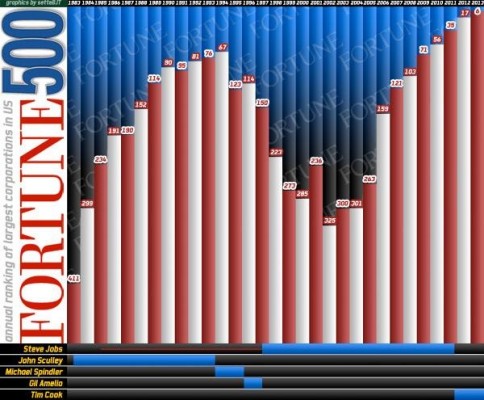 Apple's Fortune 500 rankings, 1983-2013 (source: setteB.IT)
Today Fortune published its new Fortune 500 list, an annual ranking of the largest companies in the U.S. ranked by revenue. In the new list, Apple has risen to number 6 from its 17th spot in the last year's rankings.
Wal-Mart retook the top spot in this year's rankings edging out ExxonMobil. Phillips 66, Berkshire Hathaway and Chevron have ranked ahead of Apple with $156.2 billion in revenue. In terms of profits, Apple ranked second among companies in the Fortune 500 list at $41.7 billion, trailing ExxonMobil with $44.9 billion.
Apple is also on track for another strong financial performance this year, reaching $22.6 billion in profit on $98.1 in revenue in the first half of this year. That compares to profit of $24.7 billion on sales of $85.5 billion in the first half of fiscal 2012.

Leave a comment