Apple Receives More Money From iTunes And Accessories Than Other Companies From Phones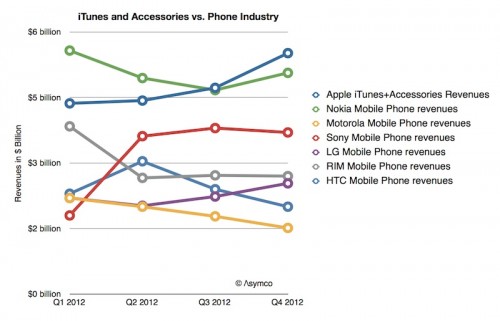 According to analysis by Asymco of Apple's revenue breakdowns, Apple received more money from accessories and iTunes sales than all other companies, except for Samsung, received from phone sales over the last quarter.
As noted in its earnings release for the Q1 2013, Apple's total revenues from accessories and iTunes sales amounted to over $5.5 billion – more than total revenues from phone sales of each of LG, HTC, Nokia, Motorola and BlackBerry. Author of the analysis Horace Dediu noted:
"iTunes is now Apple's fourth largest business, having overtaken the iPod in revenues two years ago. iTunes growth relative to the Mac means that it could become the third largest business during this year".
The figures also make Apple's service bigger than Microsoft's combined Windows Phone and Xbox divisions.
Meantime, analyst from Morgan Stanley Scott Devitt suggests (via Business Insider) that Google pays around a billion dollars to Apple for making Google the default search engine on iOS devices, up tenfold from three years ago.
The steep increase in value for the deal is said to have been spurred in part by Microsoft that has become increasingly aggressive about securing such deals for its Bing search service.

Leave a comment