Apple Releases iOS 8.4.1 Beta to Developers for Testing

Apple has recently released iOS 8.4.1 beta to developers for testing. The release comes less than a month after the official release of iOS 8.4, which contained a completely redesigned Music app supporting Apple Music as well as some general bug fixes and stability improvements.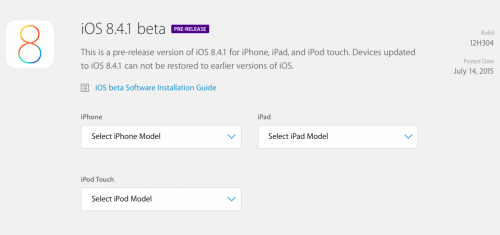 iOS 8.1.4 has a build number 12H304. It is compatible with iPhones, iPads and iPod touches.
It is currently unclear why Apple has released this version of iOS. People familiar with the matter claim that the guys from Cupertino are trying to patch the vulnerability used by hackers from the Taig team to jailbreak iOS 8.4. It is also possible that Apple is working on several fixes for Music app.
If you have a developer account and a compatible device, you can download the latest beta right now. It is available from Apple's developer portal. However, I don't recommend you to install this beta on your main device since it may be quite unstable.

Leave a comment