Apple Releases iOS 9 beta 4 to Developers for Testing

Apple has recently seeded the fourth beta of iOS 9 to developers for testing. The latest build can boast of a number of stability and performance improvements as well as several new features. In case you don't know, the previous version was released about two weeks ago.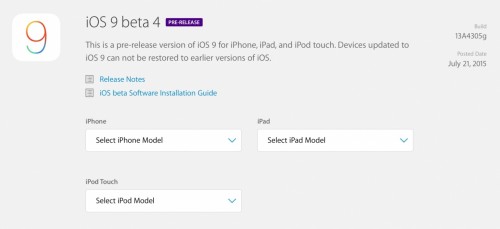 iOS 9 Beta 4 has a build number 13A4305g. As to the list of enhancements and new features of the update, you can take a look at it below.
Apple brought back the Home Sharing for music, a feature that was removed with the iOS 8.4 update.
iOS 9 beta now supports the latest iPod touch released last week.
Apple fixed the bug, which prevented people from using the volume button as a shutter button for the camera.
New option that allows to turn off the access to Apple Pay from the home screen.
Picture in Picture feature for the Podcasts app.
Of course, there are some other features and fixes added to iOS 9 Beta 4. However, they are less important than those I've mentioned above.
If you have a developer account and a compatible iPhone, iPad or iPod touch, you can download the latest iOS 9 beta right now. It is available from Apple's dev portal or as an OTA-update. Keep in mind it is not recommended to install this pre-release build on your main device.

Leave a comment